Specialists in Online Food Safety Courses, Heath & Safety Training and Fire Safety Courses
UK based Esky delivers distance learning courses which are simple and easy to use, making training quick and effective for both individual users and businesses of any size.

We use audio visual, interactive animation to deliver our e-learning courses in an enjoyable and refreshing format. The subscription process is simple - be training in minutes and printing a certificate in a matter of hours. See how it works...
A Brief History of Esky
The first training programme we developed was a basic online food safety course in 2003, and since then we have added new courses year upon year. Following food safety we developed a fire safety course and a health and safety course, then drafted in more animators to add their own style to a DSE awareness course and a manual handling course. In recent years we have branched out to include an even wider variety of courses, inductions and refresher training and we continue to grow our training suite based on feedback from our customers. Find out more about us...
Mission Statement
"Esky has evolved from a family vision 10 years ago to a rapidly growing and well trusted learning provider with clients ranging from individuals to large national companies. What sets us apart is our background as designers, writers and animators, with experience in producing web content for the BBC. We strongly believe in providing engaging content which increases retention in learning, and we understand that trust and quality is everything when it comes to distance learning. That's why our courses are audited by independent EHOs, tested and updated regularly, and we welcome feedback from our customers so we can stay on top of our game." Malcolm McLeod, Managing Director. Read some testimonials...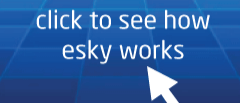 Food Safety Resource Pack