Train multiple members of staff with ease!
If you require training for multiple members of staff then Esky provides the perfect solution for you. The Esky Supervisor account gives you the ability to add, manage, and monitor your trainees. All in one easy to use learning management system. Best of all, it's completely free of charge!
This supervisor account also acts as an online record of all your training and can be used to demonstrate that everyone has received training during inspections.
To be set up with a Supervisor account, you just need to order more than one license of a course at a time. You are then automatically set up with the account.
Click here for the most frequently asked questions regarding the Supervisor account.
How the Supervisor Account Works
Below are the different functions of a Supervisor Account. Click anyone to jump to more information.
The Control Panel
The control panel is the first screen you will see when logging in. It will show you the courses that you can assign to your memebers of staff. Clicking on the icon will take you to that courses control panel.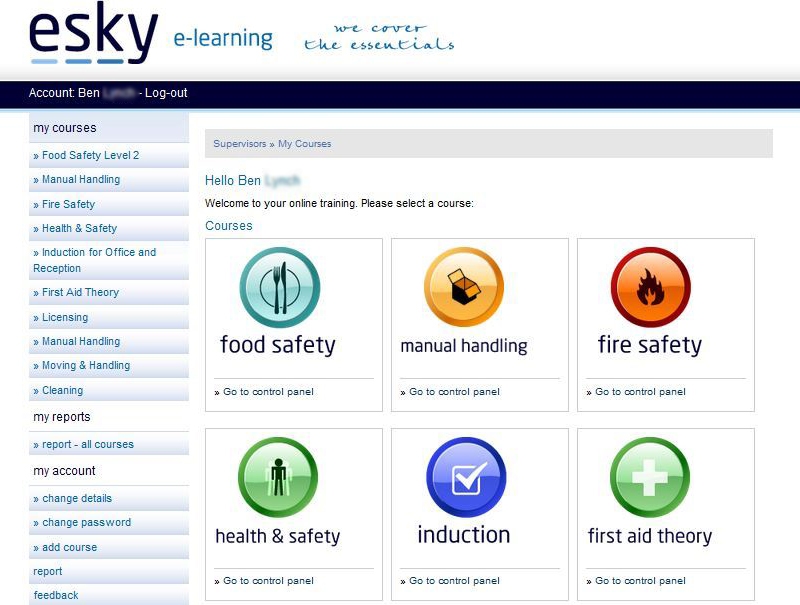 The Course Control Panel
From the Course Control Panel you will be able to view the amount of trainees assigned courses (217 in the picture above) and the amount of licenses you have remaining (11). You can also Add New Trainees from this screen.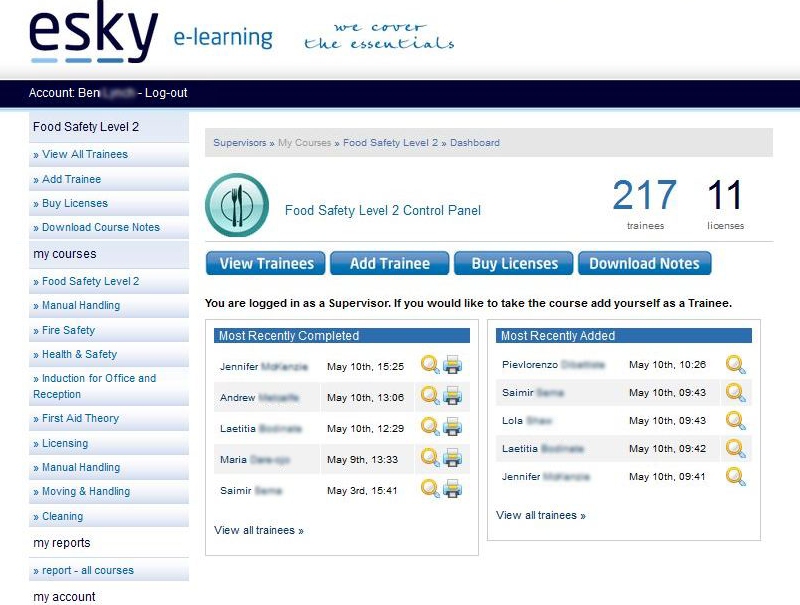 The Individual Trainee Overview
By clicking on a trainee you will be able to see their overview for that course. You'll get a breakdown of how far they have progressed and what their assessment results are if completed.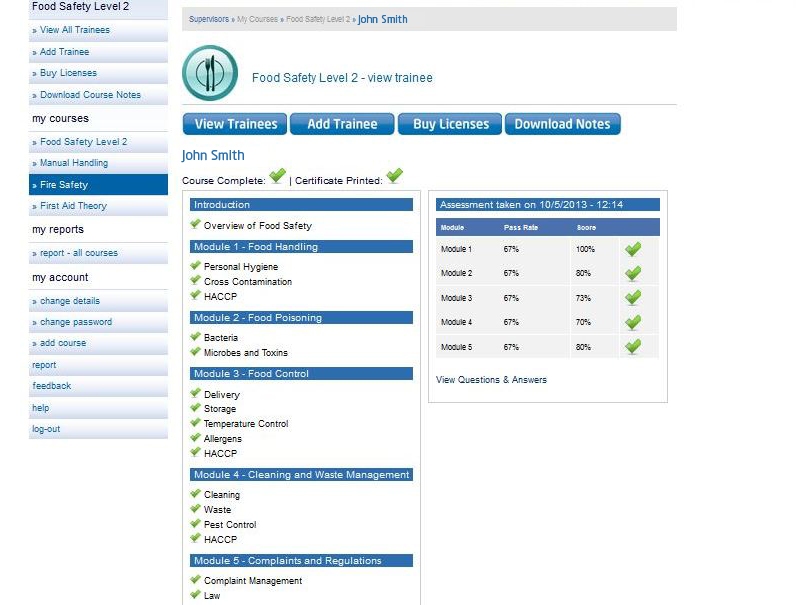 Exporting Trainees
Clicking on View Trainees will display a list of all your trainees and give you an overview of their progress. It will show details like date added, date started, whether they've finished the course and when their access to the course is due to expire. You can export all this data into a spreadsheet by clicking on the 'Export Trainees' button.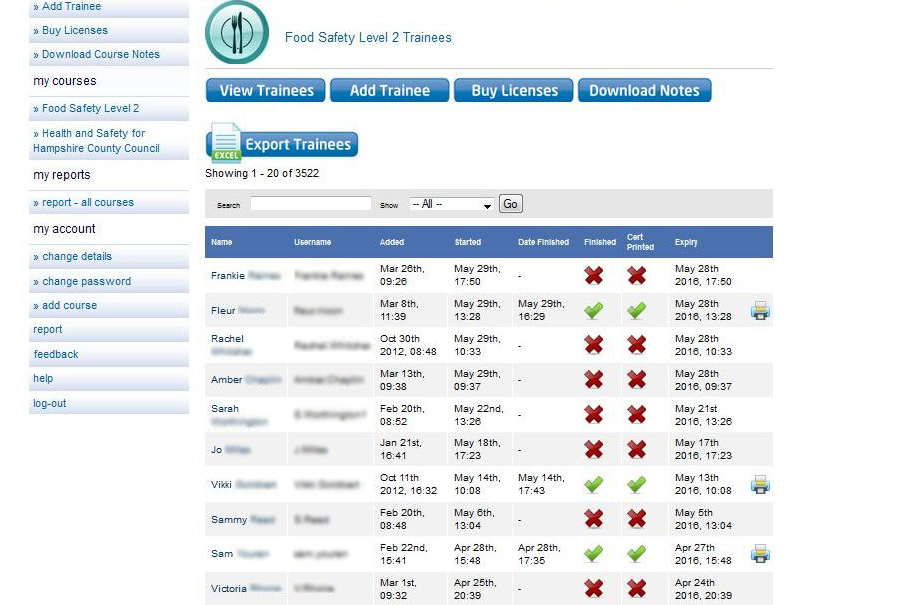 Overall Report
Finally, clicking on 'My Reports' on the left had side gives you a full report of all the courses every trainee is subscribed to, along with their progress.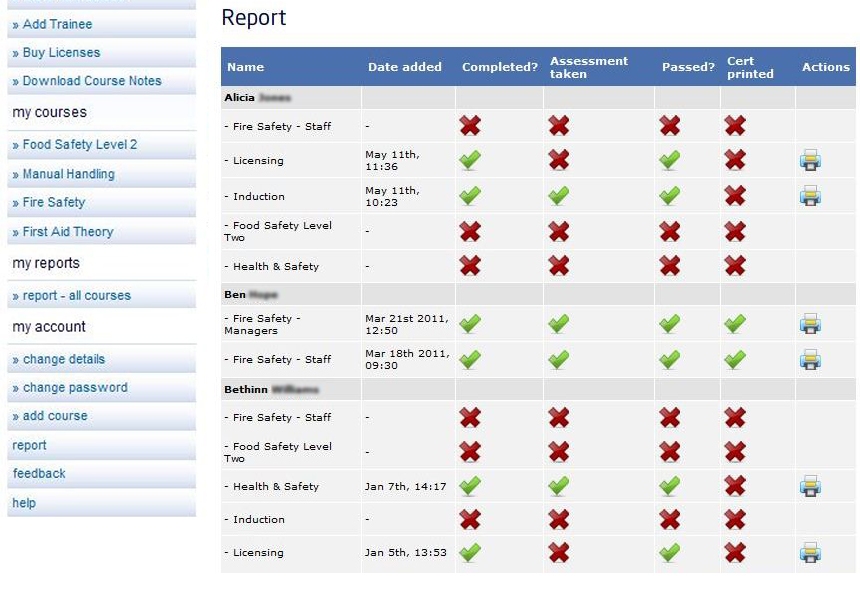 Supervisor Account FAQ
Q. I only have 2 or 3 members of Staff who require training; can I still use the Supervisor Account?
A. Yes. A supervisor account is available for anyone who purchases more that one license at a time.
Q. Is there any additional cost for a Supervisor Account?
A. The supervisor account is a free service Esky offers and there is no additional cost for it.
Q. How do I get set up with a Supervisor Account?
A. To be set up automatically with this type of account all you need to do is simple purchase more than one course. The system will then set you up with a supervisor account. Alternatively you can contact us through our contact page to discuss your order and we can set you up with a supervisor account.