New Allergen Labelling Law Due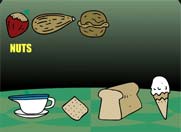 New allergen labelling laws are due to be introduced by DEFRA and the Food Standards Agency on 13th December. These new Food Information Regulations will now require food outlets to provide allergy information on food sold unpackaged, and there will also be changes to allergy labelling requirements on prepackaged food too.
This means that coffee shops, bakeries, conference facilities and a whole host of other businesses serving food and snacks will have to comply with the new regulations.
In order to make the process simpler, the FSA are offering advice to businesses, which can be found on their website here.
Did you know...? Our food safety course includes a comprehensive allergens guide within the training package, to raise awareness of allergens while preparing food. We have been promoting education of food allergens for many years and understand how vital it is to get across the right information in a way that is easy to understand and remember. Get in touch for more information, or visit our food safety course page.